The Fifth Annual DHS University Network Summit sponsored by the US DHS Office of University Programs, Science and Technology Directorate will be held at the Renaissance Washington DC Hotel.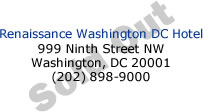 The Renaissance Washington, DC Downtown Hotel has sold out of available DHS Summit rooms.
Cut-off date to make reservations is March 6, 2011
Group rate is $211 + tax
Group rate is available March 29-April 1, 2011
If you are unable to acquire a room at the meeting hotel, there are many additional hotels in the area including the following recommended options:
Please note that there are no room blocks established at these hotels and no guaranteed rate.
Transportation